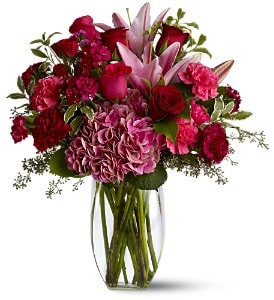 Flower Delivery Spring Texas
Wildflower Florist & Cypress Floral delivers flowers to Spring, Texas every day. We also deliver to all Spring hospitals, churches and funeral homes.
About Spring TX
Spring, Texas, is a census-designated place located within Houstin. It is 20 miles north of the downtown business area of Houston, and it currently has a population of more than 35,000 residents.
City of Spring
Spring Texas Wikipedia
Yelp Active Life in Spring
Spring's History
The area now known as Spring was originally inhabited by the Orcoquiza Native Americans. In 1836, the Texas General Council of the Provisional Government placed the community in the Harrisburg municipality. In 1838, William Pierpont placed a trading post on Spring Creek. Several years later, a number of German immigrants, including Carl Wunsche, moved to the area and began farming. People from Louisiana and the post-United States Civil War Southern U.S. also settled in Spring.
Florist in Spring TX
Wildflower Florist has been proudly serving the Spring, Texas, areas for 30 years. We are committed to offering only the finest floral arrangements and gifts, backed by service that is friendly and prompt. Because all of our customers are important, our professional staff is dedicated to making your experience a pleasant one. That is why we always go the extra mile to make your floral gift perfect.
"Let Wildflower Florist be your first choice for flowers."
Flower Delivery to all Spring Area Hospitals:
Texas Children's Hospital
30119 Nanton Dr
Spring, TX 77386
(281) 298-6843
Triumph Hospital Northwest
205 Hollow Tree Ln
Houston, TX 77090
(832) 249-2700
North Houston Subacute Hospital
18550 I H 45 S
Spring, TX 77373
(281) 364-2000
Intracare Hospital North
1120 Cypress Station Dr
Houston, TX 77090
(281) 893-7200
Cypress Creek Hospital Adult
17750 Cali Dr
Houston, TX 77090
(281) 586-7866
Houston Northwest Medical Center
710 Fm 1960 Rd W
Houston, TX 77090
(281) 440-1000
Flowers Delivered to These Spring Churches
Lexington Woods Church of Christ
26206 Aldine Westfield Rd
Spring, TX 77373
(281) 353-0016
Immanuel United Church-Christ
26501 Border St
Spring, TX 77373
(281) 288-3199
Tamina Church of Christ
19757 Main
Spring, TX 77373
(281) 363-0879
New Beginnings Church
26029 Aldine Westfield Rd
Spring, TX 77373
(281) 907-0013
St Paul United Methodist
426 Booker Dr
Spring, TX 77373
(281) 528-7117
Spring Antioch Baptist Church
27310 Oak St
Spring, TX 77373
(281) 528-8459
Truevine Missionary Baptist
27307 Oak St
Spring, TX 77373
(281) 350-6164
Advent Presbyterian Church
903 Spring Cypress Rd
Spring, TX 77373
(281) 355-7888
Spring Baptist Church
1027 Spring Cypress Rd
Spring, TX 77373
(281) 353-5448
True Holiness Cogic
27543 Nelson St
Spring, TX 77373
(281) 353-3391
Sympathy & Funeral Flowers Delivered to these Spring TX Funeral Homes
Calvary Hill Funerall Home
21723 Aldine Westfield Rd
Humble, TX 77338
(281) 443-3340
Casket Place
74 Fm 1960 Rd W
Houston, TX 77090
(281) 583-7800