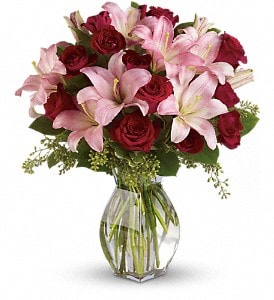 Flower Delivery Tomball Texas
Wildflower Florist & Cypress Floral delivers flowers to Tomball, Texas every day. We also deliver to all Tomball hospitals, churches and funeral homes.
About Tomball TX
Tomball, Texas, is located in Harris County. It is home to a small airport and is the sister city of Telgte, Germany. The local high school often hosts exchange students from Germany and other countries.
City of Tomball
Tomball Texas Wikipedia
Yelp Active Life in Tomball
Tomball's History
The Tomball area was founded in the early 1800s when immigrants found open, fertile land that was perfect for farming and raising cattle. However, it was not until 1906 that the area began to boom. Railroad line engineers noticed that Tomball was situated in an area that made it an ideal location for a train stop. At first, people called the area Peck, after a chief civil engineer of the railroad line. However, in 1907, the town was officially named Tom Ball, later to be shortened to one word, after local gongressman Thomas Ball. Tomball was flooded with over two dozen oil companies when the residents struck oil in 1933.
Tomball continued to grow over the years and hit its second major boom after World War II. In Tomball, people could escape some of the disagreeable qualities of the city but still enjoy the closeness of jobs, culture, and entertainment. In the 1970s, Tomball's population again soared. Over the next 20 years, Tomball's population increased from 16,000 to over 85,000 residents.
Florist in Tomball TX
Wildflower Florist has been proudly serving the Tomball, Texas, areas for 30 years. We are committed to offering only the finest floral arrangements and gifts, backed by service that is friendly and prompt. Because all of our customers are important, our professional staff is dedicated to making your experience a pleasant one. That is why we always go the extra mile to make your floral gift perfect.
"Let Wildflower Florist be your first choice for flowers."
Flower Delivery to all Tomball Area Hospitals:
Tomball Regional Medical Center
605 Holderrieth Blvd
Tomball, TX 77375
(281) 401-7500
Cancer Center At Tomball
13700 Medical Complex Dr
Tomball, TX 77375
(281) 401-5900
Flowers Delivered to These Tomball Churches
St Timothy Anglican Church
413 W Main St
Tomball, TX 77375
(281) 255-4111
First Baptist Church-Tomball
400 W Houston
Tomball, TX 77375
(281) 351-4997
Church on Fire International
802 W Main St
Tomball, TX 77375
(281) 758-2708
Zion Lutheran Church-Tomball
907 Hicks St
Tomball, TX 77375
(281) 351-5757
St Anne's Catholic Church
1111 S Cherry St
Tomball, TX 77375
(281) 351-8106
Tomball Assembly of God
1101 W Main St
Tomball, TX 77375
(281) 351-5055
Episcopal Church-Good Shepherd
715 Carrell St
Tomball, TX 77375
(281) 351-1609
Carrell Street Baptist Church
819 Carrell St
Tomball, TX 77375
(281) 351-1013
Saddle Creek Church
130 Agg Rd
Tomball, TX 77375
(281) 351-6364
Bethel Northwest Fellowship
28473 Tomball Pkwy
Tomball, TX 77375
(281) 516-9995
Sympathy & Funeral Flowers Delivered to these Tomball TX Funeral Homes
Klein Funeral Home & Memorial
1400 W Main St
Tomball, TX 77375
(281) 351-7233
Ken Lambert Funeral Negotiator
8819 Sedgemoor Dr
Tomball, TX 77375
(281) 357-0195