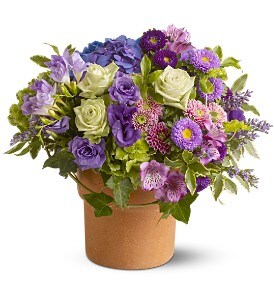 Flower Delivery Kingwood Texas
Wildflower & Cypress Florists deliver flowers to Kingwood, Texas every day. We also deliver to all Kingwood hospitals, churches and funeral homes.
About Kingwood TX
Kingwood, Texas, is mostly located in Harris County, amount of the city is in Montgomery County. It is the largest master-planned community in the county. Kingwood is nicknamed the "Livable Forest" because of the many trees that grow in the area.
City of Kingwood
Kingwood Texas Wikipedia
Yelp Active Life in Kingwood
Kingwood's History
Kingwood was founded in 1969. Its name comes from the King Ranch, which was owned by Kelly King. In 1976 Kingwood had a few thousand residents, but between 1980 and 1990, the population increased by 40 to 70 percent. In 1990, the community had grown to feature more than 200 businesses.
Houston annexed Kingwood in 1996. During that year, Thomas Phillips, a retired longshoreman and Bordersville resident, joined with representatives of Kingwood and sued the City of Houston , arguing that the city could not legally annex areas if it did not provide certain services to some of its existing areas, including Bordersville. However, Phillips did not win his case. Even after appealling to the Texas Supreme Court, the ruling held, and today, Kingwood is considered a part of Houston.
Florist in Kingwood TX
Wildflower Florist has been proudly serving the Kingwood, Texas, areas for 30 years. We are committed to offering only the finest floral arrangements and gifts, backed by service that is friendly and prompt. Because all of our customers are important, our professional staff is dedicated to making your experience a pleasant one. That is why we always go the extra mile to make your floral gift perfect.
"Let Wildflower Florist be your first choice for flowers."
Flower Delivery to all Kingwood Area Hospitals:
Kingwood Medical Center
22999 Highway 59 N
Humble, TX 77338
(281) 348-8000
Kingwood Pines Hospital
2001 Ladbrook Dr
Kingwood, TX 77339
(281) 358-1495
Icon Humble Hospital
19333 Highway 59 N
Humble, TX 77338
(281) 446-2839
Memorial Hermann Northeast Hospital
18951 N Memorial Dr
Humble, TX 77338
(281) 540-7700
N E Medical Ctr Hospital
9950 Memorial Blvd
Humble, TX 77338
(281) 446-0439
Renaissance Northeast Surgery
18929 Highway 59 N
Humble, TX 77338
(281) 446-4053
Kingwood Specialty Hospital
300 Kingwood Medical Dr
Kingwood, TX 77339
(281) 312-4000
Healthsouth Rehabilitation Center
19002 Mckay Blvd
Humble, TX 77338
(281) 446-6148
Oaks Medical Center
6618 Archgate Dr
Spring, TX 77373
(281) 645-4758
First Choice Emergency Room
5324 Atascocita Rd #T
Humble, TX 77346
(832) 644-3400
Flowers Delivered to These Kingwood Churches
Forestwood Bible Church
21857 Highway 59 N
Kingwood, TX 77339
(281) 358-6161
Soldiers of the Cross
201 Mcclellan Rd
Kingwood, TX 77339
(281) 359-0009
Providence Orthodox Presbyterian Church
22800 Highway 59 N
Kingwood, TX 77339
(281) 312-2672
Second Baptist Church
22770 Highway 59 N
Kingwood, TX 77339
(281) 358-8177
Humble Area's First Baptist
19901 Townsen Blvd
Humble, TX 77338
(281) 446-8168
San Jacinto River Branch Church
23826 Highway 59 N
Kingwood, TX 77339
(832) 445-0003
Grace Reformed Baptist Church
10203 Birchridge Dr
Humble, TX 77338
(281) 540-2222
Community Christian Fellowship
1711 Hamblen Rd
Kingwood, TX 77339
(281) 358-0160
Lamb of God Lutheran Church
1400 Fm 1960 Bypass Rd E
Humble, TX 77338
(281) 446-8427
Christian Life Center
600 Charles St
Humble, TX 77338
(281) 540-6009
Sympathy & Funeral Flowers Delivered to these Kingwood TX Funeral Homes
Kingwood Funeral Home
22800 Highway 59 N
Kingwood, TX 77339
(281) 358-9005
Humble Funeral Home
1008 Wilson Rd
Humble, TX 77338
(281) 446-2138
Rosewood Funeral Home
2602 S Houston Ave
Humble, TX 77396
(281) 441-2171
Florist Kingwood TX
Kingwood TX Florist
Flower Delivery in Kingwood TX
Local Florist Kingwood Texas