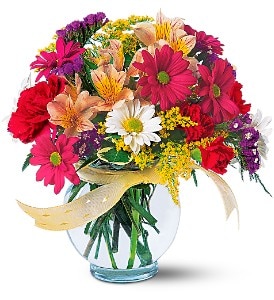 Flower Delivery Webster Texas
Wildflower Florist & Cypress Floral delivers flowers to Webster, Texas every day. We also deliver to all Webster hospitals, churches and funeral homes.
About Webster TX
The small city of Webster, Texas, is a part of Harris County. It has a population of about 10,000 and is located halfway between Houston and Galveston. It is home to many engineers and other employees of NASA's Johnson Space Center.
City of Webster
Webster Texas Wikipedia
Yelp Active Life in Webster
Webster's History
The area that is known as Webster was originally home to a settlement of the Karankawa Indians. However, when Stephen Austin and his family settled in the area in 1823, the two groups came into conflict. Over time, the tribe's population dwindled as many moved out of the area. In 1879, the area became known as Webserville when it was made a stop on the Galveston, Houston, and Henderson Railroad. Eventually, the name was shortened to Webster.
Florist in Webster TX
Wildflower Florist has been proudly serving the Webster, Texas, areas for 30 years. We are committed to offering only the finest floral arrangements and gifts, backed by service that is friendly and prompt. Because all of our customers are important, our professional staff is dedicated to making your experience a pleasant one. That is why we always go the extra mile to make your floral gift perfect.
"Let Wildflower Florist be your first choice for flowers."
Flower Delivery to all Webster Area Hospitals:
Webster Specialty Hospital
333 N Texas Ave
Webster, TX 77598
(281) 335-1700
Clear Lake Regional Medical Center
500 Medical Center Blvd
Webster, TX 77598
(281) 332-2511
Bay Area Surgicare Center
502 Medical Center Blvd
Webster, TX 77598
(281) 332-2433
Clear Lake Rehabilitation Hospital
655 E Medical Center Blvd
Webster, TX 77598
(281) 286-1500
Triumph Hospital Clear Lake
350 Blossom St
Webster, TX 77598
(281) 316-7800
Cornerstone Hospital-Houston
709 Medical Center Blvd
Webster, TX 77598
(281) 332-3322
Bay Area Wound Healing
3 Professional Park Dr.
Webster, TX 77598
(281) 554-8848
Women's Hospital of Texas
411 Bay Area Blvd
Houston, TX 77058
(281)486-4814
Immediate Medical Care
1202 Nasa Pkwy
Houston, TX 77058
(281) 335-0606
Christus St John Hospital
18300 Sain John Dr.
Houston, TX 77058
(281) 333-5503
Flowers Delivered to These Webster Churches
Webster Presbyterian Church
201 W Nasa Rd 1
Webster, TX 77598
(281) 332-1251
Covenant Word Church
367 E Nasa Blvd
Webster, TX 77598
(281) 316-0600
First Baptist Church
420 Slossen St
Webster, TX 77598
(281) 332-4041
Community of Christ
520 N Austin St
Webster, TX 77598
(281) 338-1842
Oasis De Esperanza
471 S Austin St
Webster, TX 77598
(281) 332-4126
St John Theologian Greek Orthodox Church
202 N Walnut St
Webster, TX 77598
(281) 554-7223
Clear Lake Chinese Church
503 N Austin St
Webster, TX 77598
(281) 338-1929
Evangelical Formosa Church
401 N Texas Ave
Webster, TX 77598
(281) 338-7959
Praise Chapel
18516 Highway 3
Webster, TX 77598
(281) 338-6633
Bay Area Presbyterian Church
670 E Medical Center Blvd
Webster, TX 77598
(281) 280-0713
Sympathy & Funeral Flowers Delivered to these Webster TX Funeral Homes
Crowder Funeral Home
111 E Medical Center Blvd
Webster, TX 77598
(281) 280-9000
Forest Park Funeral Home
21620 Gulf Fwy
Webster, TX 77598
(281) 332-3111
Dignity Memorial Bay Area Chapel
1625 E Main St
League City, TX 77573
(281) 332-1571