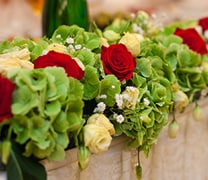 We make same-day delivery a snap!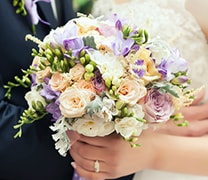 Worldwide delivery means you can celebrate or sympathize from South Texas to South Korea.
Our flower arrangements are some of the freshest and most artfully designed arrangements that you'll ever see.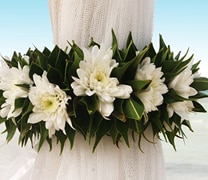 Say all that you need to say with our customized designs.
For The Service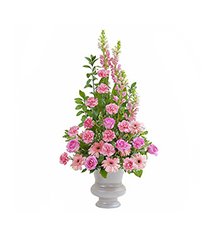 Peaceful Pink Large Urn
Shop Now
For The Home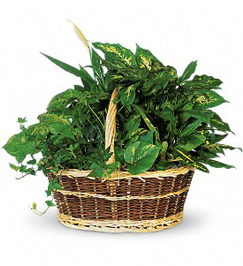 Large Basket Garden
Shop Now
Cremation Services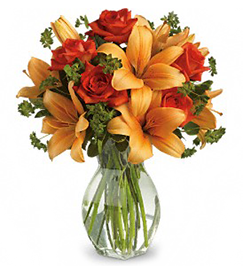 Fiery Lily and Rose
Shop Now
Can you deliver a personal note on funeral flowers? What should it say?

Absolutely we can deliver notes with funeral flowers. In fact, we encourage you to compose a personal note. Wildflower Florist delivers beautifully laser-printed notes on heavy stock paper with a pleasing floral design background in muted pastel pink, beige, and blue. We are happy to include your personal message with your bouquet.

As for the message, it should be intensely personal. Allow it to flow from your heart. As long as you are kind and caring there is really no right or wrong thing that you can say. Some mourners will respond well to an inside joke, while others will prefer gentle, beautiful words of sympathy. You know your recipient best. The truth is, many people just appreciate the fact that you're thinking of them during a truly difficult time.

What kind of flowers should I choose for a funeral?

Wildflower starts by asking if your loved one has any favorite flowers or colors. Then, we custom design a sympathy arrangement that is personal to the loved one and to the family.

We also work with themes. Ourflower shop designs sympathy flowers from logos, like the Harley Davidson Logo. We've also worked with the deceased's hobbies, designing arrangements that revolve around guitars, cowboy boots, golf bags, and more. You're only limited by your imagination here. The more thoughtful and personalized the arrangement, the more impact your message of sympathy will have.

How much can I expect to pay for a funeral arrangement?

Sympathy items can start at $75.00. Large, custom sympathy pieces will cost more.
Is there a difference between sympathy flowers vs. funeral flowers?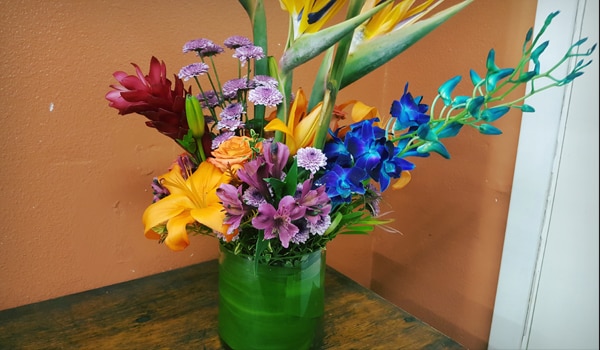 November 29, 2016
Published by Wildflower Florist
When Should You Send Funeral Flowers Directly to the Funeral Home?
You should send funeral flowers directly to the funeral home when you are donating them specifically to be used as a part of the memorial service display. These flowers are different from the ones you'd place in a sympathy bouquet, which would typically be sent directly to the homes of the family.
You can send bouquets, crosses, or wreaths. These would be placed near the sides or front of the funeral home. The family buys flowers for the casket or urn.
When ordering funeral flowers, be sure to tell us when the funeral or memorial service is to be held. This will allow us to help you time the delivery so the flowers will still be fresh and pretty while still arriving on time for the service.
September 26, 2016
Published by Wildflower Florist
Is it okay to send sympathy flowers if a funeral notice mentions charitable donations?
Unless the notice specifically asks you to send the donation "in lieu of" or instead of flowers there is absolutely no etiquette rule which would prevent you from expressing sympathy. You can even do both. Flowers let the survivors know that you're thinking about them and that you care. A thoughtful arrangement can help make a tough time a little easier.
August 24, 2016
Published by Wildflower Florist
When you buy from a local flower shop you getmore flowers for your money.
Funeral flowers are meant for the service. They're delivered directly to the funeral home, and include a personal note. They may surround the altar at the church, the graveside, or photos of the deceased and tend to be larger presentation arrangements.
Sympathy flowers are a more personal message that you'll send to the home or office of the spouse, children, or relatives of the deceased. They're meant to remind people they're not alone during a difficult time. They're an especially nice gesture when you cannot attend the funeral.
Interested in learning about sympathy flower etiquette? Check out this in-depth information from our partner in international delivery, Teleflora.